Pet Lodging Facility | Paws 'n Claws in Erie, PA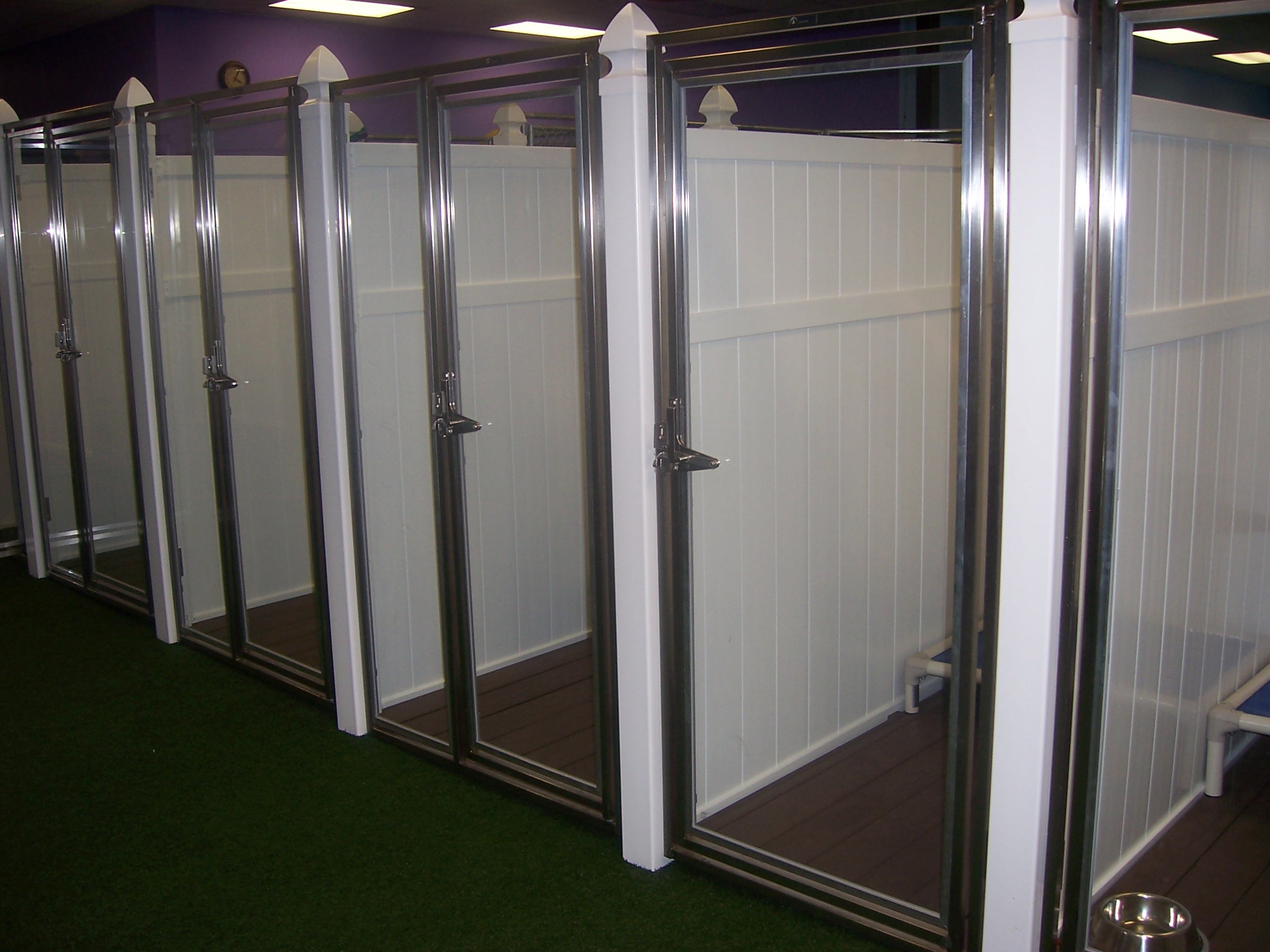 If you are looking for information on lodging at Paws 'n Claws - Girard, click HERE.
Paws 'n Claws in Erie, PA is the premier pet lodging and pet styling facility in Erie, PA and the surrounding areas. The Erie location is a 7,500 square foot, state-of-the-art "pet palace" designed to surround your pets in comfort. When lodging your pets, our first consideration is the comfort, safety and security of your pets.
Dog condo sizes at our Erie pet lodging location are 3 x 6 feet and 4 x 6 feet. Condo sizes are assigned based on the dog's size and/or number of dogs sharing the same condo (only allowed if the dogs are all from the same household). Our condos in Erie are all-inclusive, boutique-style pet lodging and include one raised Kuranda bed (pictured immediately below) and a soft fleece blanket for the dog's comfort. There is a 1-day (24-hour) minimum charge for pet lodging overnight. After the first 24 hours, we charge by the hour ($1.67/hr/dog). Prices are subject to change.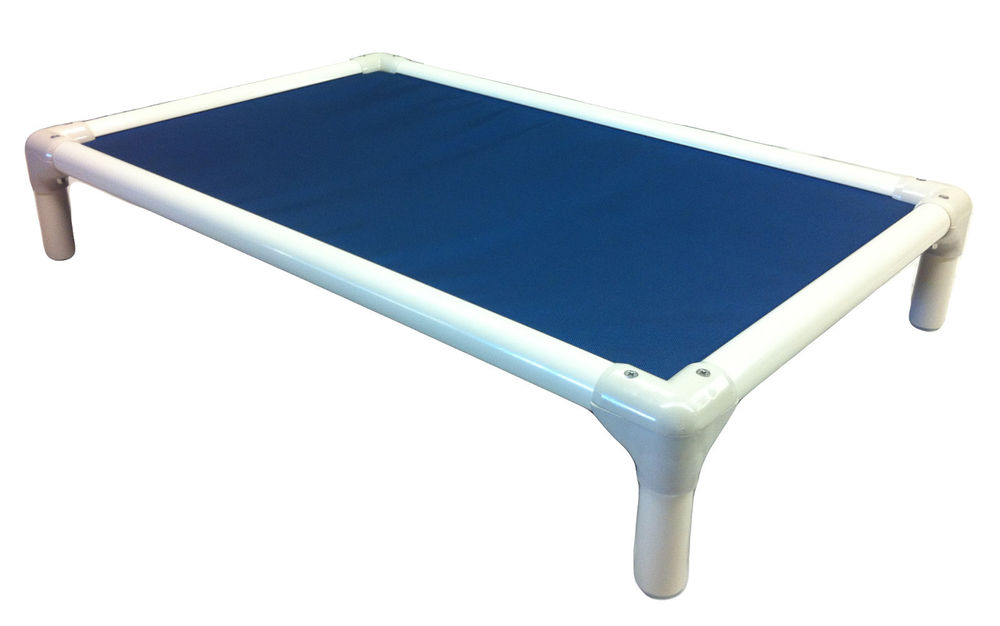 Let us watch your pet for you while you are away on vacation or business. Your pet will be happy in our private, spacious condos. They will be fed according to your instructions and get plenty of cold, clean water to drink. You can bring toys from home so they are surrounded with familiar items. They will each be allowed private time outside of their pet logding condo (for potty breaks) so that they won't be bothered by other dog guests while doing what comes natural. We even have televisions mounted in the lodging area so that it is never too quiet.
Dogs can run and romp in our secure exercise yard, and maybe even join a play group in our Indoor Play Yard (if already a member of our play groups). During your pet's stay is a great time for them to receive a full-service pet styling or bath by our professional pet stylists. Think of Paws 'n Claws as a "Bed and Breakfast" for your pets. It doesn't matter if they stay for the day, overnight or longer, your pets will get lots of individual attention! We are centrally located, right in the middle of the city of Erie - only minutes from I-79.
---
Hours:
Please click HERE to see our regular and holiday hours.
---
What Makes Paws 'n Claws Unique?
Paws 'n Claws is a state-of-the-art pet lodging and pet styling facility. What makes our business unique is two-fold. First, we all love animals. We like caring for them, feeding them, cleaning them and playing with them. It is what we do best. Second, our buildings are the newest and most modern pet boarding facilities in the tri-state area. Your pets will be surrounded in comfort.
Each pet lodging condo is private. The air is electronically cleaned with no drafts. The whole building is conditioned and humidity controlled. We have televisions inside so that it is never "too quiet", as silence will raise the stress level in dogs. There is also a 2,300 square foot Indoor Play Yard for your dogs to romp and play in (if already a part of our play groups). If not approved for PlayCare, your dog will be allowed to stretch and move around with our attendants in our seperate Indoor Exercise Yard.
Please feel free to call as often as you would like to check on your pets during regular business hours.
---
Vaccination Requirements:
Paws 'n Claws is a NO GERMS and NO FLEAS pet facility. All dogs and cats brought on the premises MUST have Veterinary certification of up-to-date vaccinations.
For dogs this includes:

1) Rabies

2) DPP

3) Bordatella (canine cough).

For cats this includes:

1) Rabies (MANDATORY),

2) Distemper (recommended - not mandatory)

3) Feline Leukemia (recommended- not mandatory)
Sorry, for the safety of all our guests, there can be NO EXCEPTIONS! Pet guests that arrive with fleas will be given a flea extermination treatment at owner's expense.
---
Printable Forms:
All guests are required to complete a Lodging Agreement Form and Lodging Ticket. You can find these forms by clicking on the links below.
---
Rates for Dog Lodging - Per Day at the Erie Location:
Up to 24 hours - $45.00 for

first dog

Up to 24 Hours - $20.00 per additional dog in the same condo as the first dog

(same-household only & size permitting)

Up to 24 Hours - $45.00 per additional dog in additional condo
After the first 24 hours, our price is charged per hour. We do not charge for a whole additional day - saving you money! We created a no-worries check-out, allowing you to pick-up and drop off anytime during our hours of operation. You do not have to play beat-the-clock like you would at other places. Our customers love this because they only pay for the time that their pet is atually staying with us (ex. if your pet is here for 1 day 4 hours, you are only charged for 1 day and 4 hours.)
---
Prices for Full-Day PlayCare at our Doggy PlayCare in Erie:
Approved dog guests staying overnight or longer at Paws 'n Claws in Erie have the option of purchasing playcare passes for during their stay at only $5.00 per day.
Due to the nature of off-leash play, for the safety of all dogs in our play pack, we only allow dogs who come to Dog PlayCare at least once per week to join the play pack during lodging. Furthermore, every doggie daycare is different, with different dogs. Therefore, we are unable to accept a referral from another dog daycare as proof of playful temperament. Our reason is simple - our number one priority is the comfort and happiness of the pets in our care.
*PlayCare pups must be spayed/neutered, temperament tested, approved and had to have participated in our PlayCare at least once per week prior to lodging in order to participate in PlayCare.
*This price does not apply to pups who participate in the Unlimitted PlayCare package.
---
Rates for other pets at our Erie Location:
Paws 'n Claws in Erie is equipped to lodge dogs only. If you would like information about boarding your cat(s), bird(s), rabbit(s), ferret(s), reptile(s) and other pets, please call Paws 'n Claws - Girard. The phone number to our Girard location is (814) 774-7297.
---
Administering Medications or Supplements:
Medications or supplements - $2.00 per treatment/dose

Difficult Pet medication or supplements - $3.00 per treatment/dose

Paws 'n Claws does not administer injectable medications (including, but not limited to, insulin and other injectable medications.) We recommend that pets requiring injectable medications be boarded at a veterinary office.
---
In-House Treats:
Big Bite Treat, can be broken into small pieces throughout your pet's stay - $1.50 each

Frozen Treat - $2.00 each
---
Pet Styling & Bathing:
Erie Styling S'paw - Please make sure to indicate styling on your lodging ticket or your online submission form.
The charge for having your pet styled at our Erie location depends on the breed of the pet and the condition of the coat. Please call (814) 456-7297 for an estimate.
For more information on our grooming services (including nail trimming and teeth brushing), please click HERE.
If you are looking for a safe and clean pet lodging facility,