News & Updates
Check out the latest news and updates to see what is happening at Paws'n Claws - Erie County's best pet resort and grooming facility.
Erie's Choice Best of the Best Winners - 2016!
Posted on Thursday, October 20, 2016 at 10:05 AM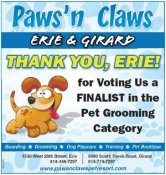 Thank you, Erie, for voting Paws 'n Claws as the Best of the Best in the Erie Times News Erie's Choice - Pet Grooming category. All of our staff work so very hard to provide the best possible service to all the pets in our care. We truly appreciate the recognition! Thank you, thank you, thank you!
Additional Photos: