Boarding | Paws 'n Claws in Girard, PA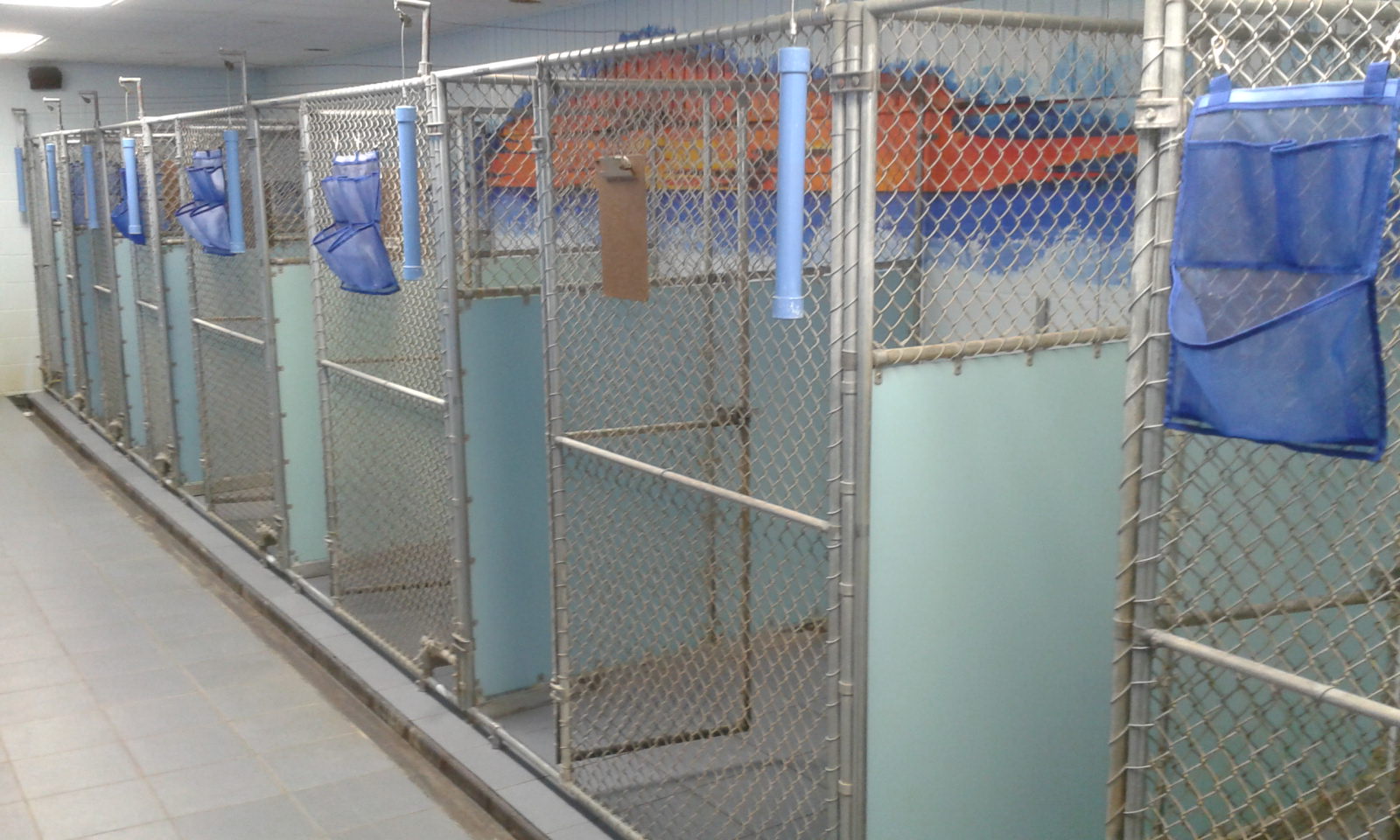 Dog condo sizes at our Girard location are 3 x 14 feet, 4 x 14 feet, and 6 x 14 feet. Condo sizes are assigned based on the dog's size and/or number of dogs sharing the same condo (only allowed if the dogs are all from the same household). There is a 1-day (24-hour) minimum charge for boarding overnight. After the first 24 hours, we charge by the hour. Prices are subject to change.
Paws 'n Claws Pet Resort - located in Girard, PA - is the premier pet boarding and grooming facility in the tri-state area (Pennsylvania, Ohio, New York). The Girard Location is a 5,000 square foot state-of-the-art "pet palace" designed to surround your pets in comfort. We offer NO-PRESSURE drop-off and pick-up of your pet(s) in that we are open daily (exept major holidays) from 8:00am - 8:00pm. If we are open, you could drop-off or pick-up - we do not have small windows of opportunity. We also have staff presence 24/7. Our first consideration is the comfort, safety and security of your pet(s).
Let us watch your pet(s) for you while you are away on vacation or business. Your pet will be very happy in our private, spacious condos. They will be fed according to your instructions and get plenty of cold, clean water to drink. You can bring toys from home so they are surrounded with familiar items. At Paws 'n Claws Pet Resort, pets can comfortably lounge on the heatled sealded porcelain tile floor or relax in the airconditioning during summertime. We also have high-quality stereos and televisions piped inside and outside of the facility. They can run and romp in our secure play yard and maybe even join a play group at our Erie location if they qualify. This is also a good time to get a beautiful full service grooming or bathing in the styling s'paw by our award-winning professional stylists!
---
Hours:
Please click HERE to see our regular and holiday hours.
---
What Makes Us Unique?
Paws 'n Claws Pet Resort is a state-of-the-art pet boarding and grooming facility. What makes our business unique is two fold. First, we all love animals. We like caring for them, feeding them, cleaning them and playing with them. It is what we do best. Second, our buildings are the newest and most modern pet facilities in the tri-state area. Your pets will be surrounded in comfort.
Each pet condo is private. For our Girard visitors - we offer a private outdoor patio. The air is electronically cleaned with no drafts. The whole building is air conditioned and humidity controlled. We have televisions and stereos throughout the facility so that it is never "too quiet", as silence will raise the stress level in dogs. Our Girard Location includes a 3,000 square foot Play Yard for your dogs to romp and play in.
Paws 'n Claws Pet Resort in Girard has been the premier pet boarding and grooming establishment in Erie County since 2001. It doesn't matter if they spend the day at our full service pet grooming and bathing spa, overnight, or longer - they get indiviualized attention, including a biscuit at bedtime.
Please feel free to call as often as you would like to check on your pets from 8:00 AM to 8:00 PM!
Walk-in tours always welcome! See below for details!
---
Vaccination Requirements:
Paws 'n Claws Pet Resort is a NO GERMS and NO FLEAS pet facility. All dogs and cats brought on the premises MUST have Veterinary certification of up-to-date vaccinations.
For dogs this includes:

1) Rabies

2) DPP

and 3) Bordatella (kennel cough).

For cats this includes:

1) Rabies (MANDATORY),

2) Distemper (recommended - not mandatory)

and 3) Feline Leukemia (recommended- not mandatory)
Sorry, for the safety of all our guests, there can be NO EXCEPTIONS! Pet guests that arrive with fleas will be given a flea extermination treatment at owners expense.
---
Printable Forms:
All guests are required to complete an Express Check-In/Boarding Ticket form and a Boarding Agreement Form. First-time guests and guests who have not stayed with us for a while are asked to complete the "New Customer Form" and "New Pet Form". You can find these forms by clicking HERE.
---
Walk Throughs, Tours and Visiting Hours:
We would be happy to show you where your pet would stay during his/her visit with us! Stop in anytime we are open and ask for a personalized tour!Appointment is not needed.
---
Rates for Boarding Dogs Per Day at the Girard Location:
1 to 50 lbs., $27.50 per day - includes one Outdoor Exercise Yard session and a blanket

50 lbs. and above, $30.50 per day - includes one Outdoor Exercise Yard session and a blanket

Additional dog within the same Condo is $19.00 per dog per day (same household only)
---
Prices for a 20-30 minute session in our 3,000 sq. ft. Ourtdoor Exercise Yard:
One mandatory 20 minute Outdoor Exercise Yard session per day is included in the price of boarding.

Extra Outdoor Exercise Yard sessions can be purchased for $4.00 per session per dog.
---
Bedding & Blanket Rental
Clean, soft fleece bedding is included in the price of the boarding - no bedding from home, please. Condos and bedding are washed daily. We also offer thick rubber mats for the dogs who struggle with getting up and down at $1.00 per day. These mats are also lifted, cleaned and washed daily.
---
In-House Treats:
Big Bite Treat, can be broken into small pieces throughout your pet's stay - $1.50 each

Frozen Treat - $2.00 each
---
Administering Medications or Supplements
Medications or supplements - $1.00 per treatment/dose

Injectable medications - $3.00 per treatment/dose
---
Rates for Cats Per Day
1 cat in a condo is $14.00 per day - includes complimentary blanket

2 cats in the same condo is $26.00 per day - includes complimentary blankets
---
Rates for Rabbits/Ferrets Per Day
If you provide your own cage or hutch and bedding - $8.00 per day

Our cage and bedding - $12.00 per day
---
Rates for Other Pets Per Day
For small mammals, birds, reptiles, amphibians, fish and other exotics, please contact our staff or call for price and availability of space.
---
Grooming & Bathing
Girard Styling S'paw - While your pet is boarding is the perfect time to get him/her pampered by one of our award-winning pet stylists! Please make sure to indicate grooming on your boarding ticket or your online submission form.
De-Shedding or Undercoat Removal, which pulls loose shedding hair from short-coated dogs and cats is available. For long-haired pets, we "rake" out the undercoat. Average price is $5.00 - $20.00 depending on the length of coat and coat's condition. This will reduce the amount of hair in your car and house, as well as help in the prevention of hot spots!
Total hand-held comb and blow-dry is $10.00 for every 30 minutes. This service is great for breeds like Collies, Shelties, Chows and any other long-haired breeds of mixes prone to tangling or hot spots. Your pet is brushed and blown dry. Decorative pet accessories are also available. Prices vary, please contact us or call and ask for a base price. We groom all varieties of dogs and cats!
Bath Packages for Short Hair:
At Paws 'n Claws Styling S'paw, the bath packages for short hair are available seven days a week with some early evenings also available and includes bath, ears and nails.
*These bath packages are for Girard only. For Erie pricing, please call (814) 456-7297.*
1 - 19 Pounds: $20.00 - $30.00

20 - 29 Pounds: $23.00 - $33.00

30 - 49 Pounds: $25.00 - $35.00

50 - 69 Pounds: $27.00 - $37.00

70 - 89 Pounds: $30.00 - $40.00

Over 90 Pounds: Call for pricing specific to your breed.
These prices are approximate and, in rare occasions, could exceed the high range. Our professional pet stylists will be able to give a better idea of the price once they see your pup. Bath packages are for short haired dogs. Deshedding or Undercoat Removal and hand blow-drying is an additional charge. Prices may increase due to temperament or the condition of the coat.
Nails:
Nails are trimmed and dremmeled.
Cats - $12.00

Small/Medium Dogs - $12.00

Large Dogs - $15.00

Giant/Difficult Dogs - $20.00
Tooth-Brushing:
Keep your pet's smile clean & healthy with a zazzy fresh mint flavor!
Our toothpaste and a new toothbrush - $3.50

Our toothpaste and your pet's toothbrush brought from home - $3.00
If you need a safe place for your pets to stay,